Pied Piper Pest Control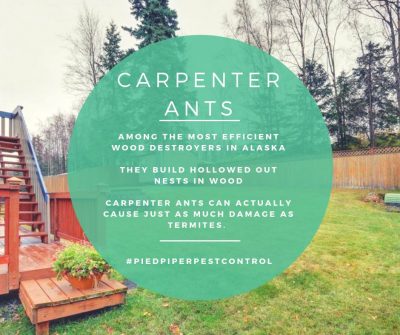 Welcome to Pied Piper Pest Control, Alaska's premier pest control service since 1965! We are proud to be a locally owned and operated small business, and we make it a point to always put our clients' needs and comforts above all else.
Pest Control in Alaska
When you think of quality pest control in Alaska, you should be thinking about Pied Piper Pest Control. Locally owned and operated, we have built a reputation for providing unparalleled service to the residents and businesses of Alaska for over 50 years. Our team of highly skilled and knowledgeable technicians specialize in a wide range of different pest control services, including insects, rodents, ornamental tree pests, birds, squirrel capture and fumigation. We know that you have plenty of options for pest removal in Alaska, but we promise that if you hire us for the job, you will never get anything less than our best work.
As a registered division of the Sanitation Services of Alaska, Inc., Pied Piper Pest Control is proud to be the Great Land's oldest and preferred local and state-wide pest control company. If your location is not conveniently accessible to our offices in the major cities, we will be pleased to arrange an on-call service appointment anywhere in the state. We are also a proud bedbugFREE network member, and a member of the National Pest Management Association. Here are just a few reasons why you can always trust Pied Piper Best Control for effective pest inspection in Alaska.
We are a locally owned and operated small business in Anchorage, AK.
Our business has been serving the entire state since 1965.
Our pest control specialists are highly knowledgeable, trained and experienced.
We are fully accredited by the Better Business Bureau (BBB).
Our rates are always transparent and fair.
Contact Us Today
If you suspect you may have a pest problem, pick up the phone and call Pied Piper Pest Control today.
Areas Served
Proudly offering pest control and pest removal services in the entire state of Alaska including:
Anchorage, AK
Fairbanks, AK
Juneau, AK
Sitka, AK
Ketchikan, AK
Wasilla, AK
Kenai, AK
Bethel, AK
Palmer, AK
Homer, AK
---